Rasaks Pixelfarm: Forest and Grasslandmonster
A downloadable asset pack
Wild wolves, armored Bulls, swarms of Hornets. The forest and wildlands are full of dangerous animals, just waiting for some travelers leaving the roads ...
Useable and editable for commercial and noncommercial projects.
This includes:
All theme based free Monsters
1 Variants of the Insectoid (Insectoid Worker)
1 Variant of Insectoid Larv (Tibekt)

Insecoid Broodmother
1 Variant of Ziz (King Ziz)
2 Variants of the Lizard (Crestlizard, Spikelizard)
4 not so different Variants of the Hornet (Poison/Mute/Berserk/Blind Hornet)
Flying Queen
4 Variants of Wolf (Fenris, Fenris Alpha, Fenris weaked, Schrat)
1 Variant of boar (Electro-Boar)
1 Pollenbud
Cursed Tree, Frozen Tree
2 Variants of Crystal Bug (Magma Bug, Amber Bug)
2 Varaints of Chaos Tumor (Human eating Plant, Human eating Plant open)
2 Variants of Scorpius (Scorpius Venom, Scorpius Musculus)
5 Variants of Ape (Yeti, Yeti with snow, Anthropoid, Canibal, Urang Yon)
2 Variants of Muscle Bull (Tribe Bull, Armor Bull)
1 Variant of Fungus Poison (Fungus Lumina)
2 Variants of Sun-Butterfly (Moon-Butterfly, Death Moth)
3 Variants of Bone Tick (Acid Tick, Magma Tick, Spider Tick)
11 Variants of Oso Gigante (Oso àrtico gigante, Oso niebla gigante, Oso prime gigante, Oso crepuscular gigante, Oso hielo gigante, Oso hielo gigante, Oso cimarrón gigante, Oso fuego cristal gigante, Oso hielo cristal gigante, Oso electro cristal gigante, Oso cimarrón cristal gigante)
Purchase
In order to download this asset pack you must purchase it at or above the minimum price of $2.50 USD. You will get access to the following files:
Wald- und Wiesenkreaturen.rar
2 MB
Comments
Log in with itch.io to leave a comment.
Does this include animated monsters or just the large concept art? If yes, could you provide what looks like?
Hey there! There are animated charactersprites for most of them (since i started it as a hobby and for my own game i still need to make some pixel-animations for a fiew ones).
Here you have a little preview, hope it is what you search :)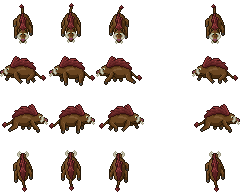 Thanks, it would be helpful to include all so that people know what they are buying. Still, thanks